Lessons
BYOD & PEN AND PAPER
Choose when and how you use your sciPAD experience; workbook, online or both. Online lessons have been developed to support and add to the books content; they do not replace the book and do not replace the teacher.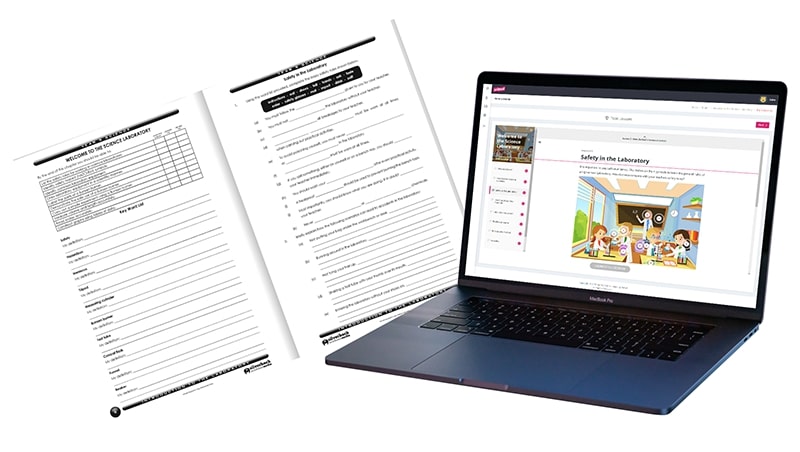 ENGAGE YOUR LEARNERS
sciPAD online is packed full of videos, images, animations and contextual examples to keep your learners engaged and inquiring. All content has been developed by New Zealand science teachers, for New Zealand science teachers.
LIVE SUMMATIVE QUIZZING
Lessons have test modules from which students can receive instant feedback. Students may repeat these and monitor their progress in mastering each topic. Test modules have drag and drop, multichoice, selections, short text answers, flipcards and sorting activities.
Literacy
LITERACY IS LINKED TO KEY EXPERIMENTS AND SKILLS
Every activity is linked to a concept or idea in the workbook. Literacy activities are linked to the Keyword Lists found at the start of each chapter in the sciPAD Workbook. Activities are realistic, contextual and fun.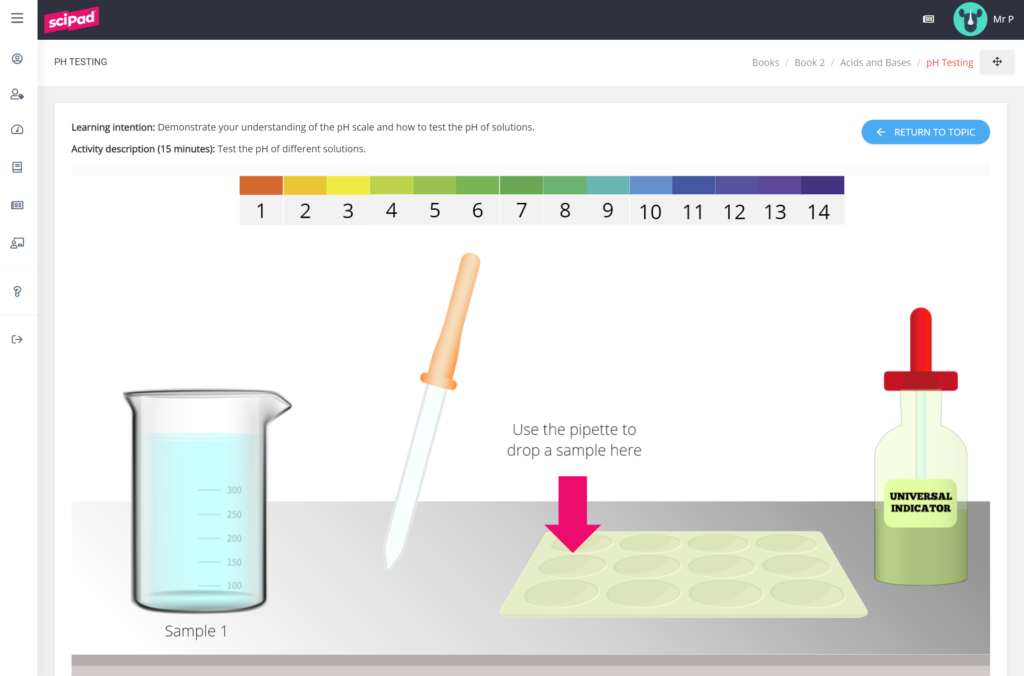 DRIVE LITERACY
Literacy activities, games, word-finds and activities build and test understanding of the keywords for each topic. Teachers can review progress in the teacher dashboard for each student.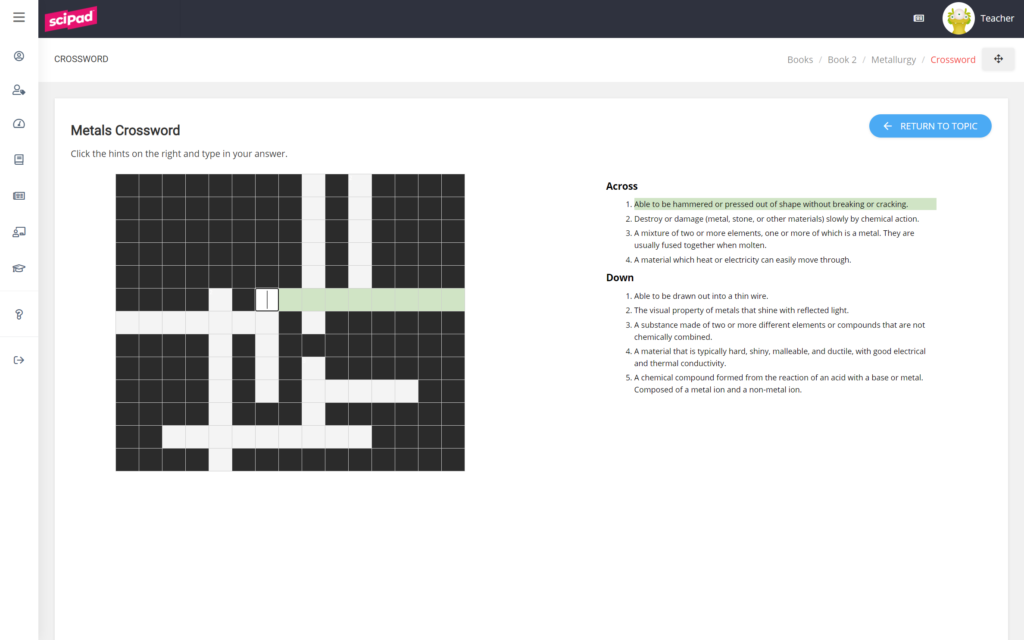 REINFORCED IDEAS AND SKILLS
Undertake key knowledge checks before or after completing a practical in the sciPAD Workbook to reinforce important learning.
Formative testing
INSTANT FEEDBACK DURING LESSONS
Small interactives embedded throughout lessons provide instant feedback to student such as hints, prompts and 'next steps'.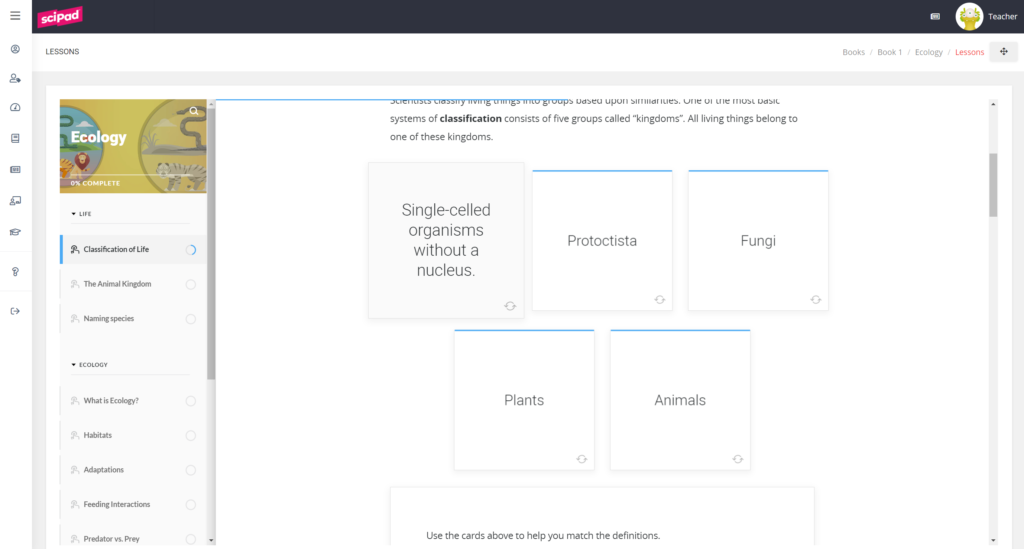 FORMATIVE TOPIC TESTS
Formative tests have been carefully crafted, and can be taken at any time by students to check their topic knowledge. Each test is designed to assess key ideas from the New Zealand Science Curriculum.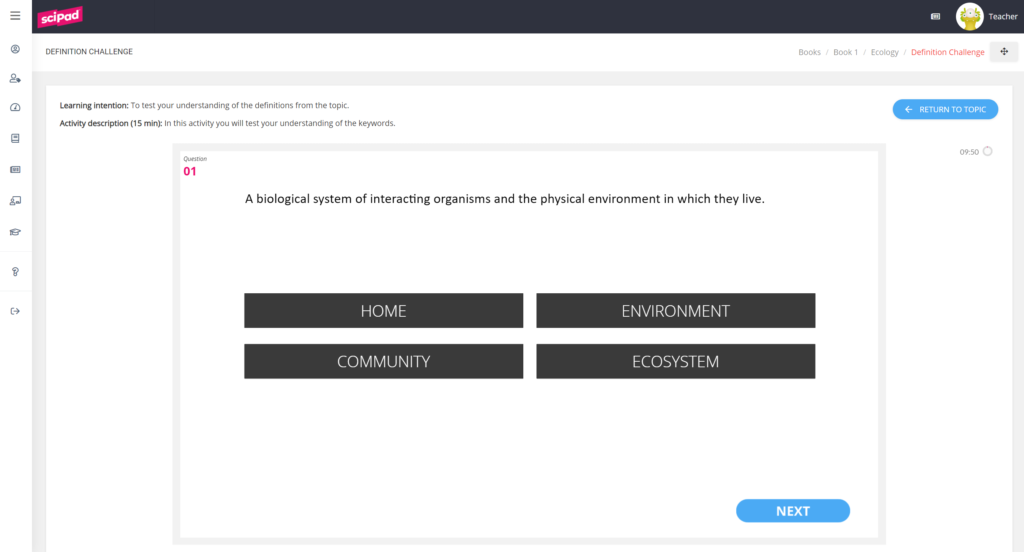 VARIOUS STYLES OF ONLINE TESTING
Prepare for the future of assessment. Short and long answer, interactive videos, multichoice, drag and drop, mix and match, sorting and checkbox options are utilised to test understanding.
Video
CONTENT RICH AND ENGAGING VIDEO
Filmed by New Zealand science teachers and streamable at up to 4K UHD, videos focus on precise and concise explanations that match practical activities in the sciPAD Workbooks.
INTERACTIVE
Videos can be viewed in two ways: a full video during lessons, or an interactive video with question prompts. Students must answer questions correctly to progress through the video.
ENGAGEMENT
Videos are designed to be concise, engaging and are developed by subject specialists. Key ideas are explained as simply as possible using terminology and principles which are foundational towards further learning at senior levels.
Student tracking
LIVE UPDATES
Set an activity in class or for homework and see student attempts, completion, rankings, awards and topic test results.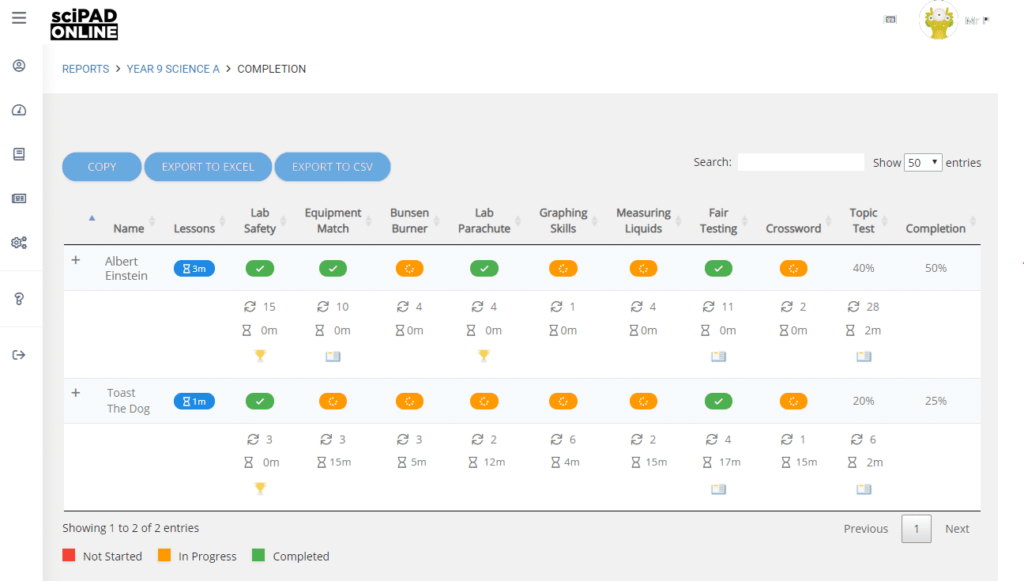 MANAGE YOUR CLASSES
Easily add classes or groups by distributing class codes with each book. Multiple teachers can also follow a class in team-teaching situations.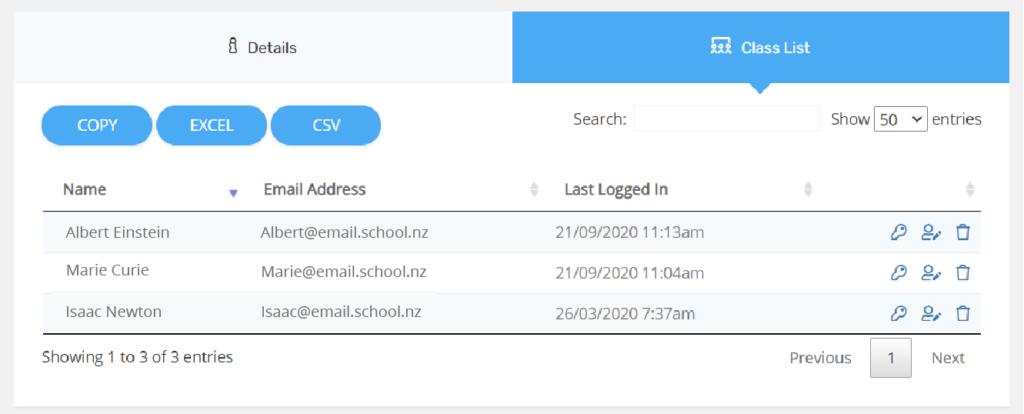 EFFICIENT
Quickly check overall data for each class. The dashboard has been designed by teachers to remain simplistic, yet powerful in terms of class data feedback.
BYOD ready
COMPATIBLE WITH ALL MODERN BYOD DEVICES
sciPAD Online has been designed to work on Chromebooks™, laptops and devices with smaller screens such as phones and tablets.