How much does sciPAD Online cost?
sciPAD Online access is FREE with the purchase of a workbook (Currently Book 1, Book 2 and Year 11 Science).
Can we purchase access to sciPAD Online?
sciPAD Online has been developed to work alongside the write-on workbooks – it is not a stand-alone resource. Currently you cannot purchase access without purchasing a workbook.
How do we get access after purchasing our sciPADs?
Once your school order is submitted to sciPAD, your contact email will be sent instructions for your teachers and students in late January. If you have not used sciPAD Online and would like to have a preview, please click here.
We bought our books from another retailer. Can we access sciPAD Online?
Yes, with proof of workbook purchase we will provide seats to access sciPAD Online. This must be a bulk/class/school signup. If you are homeschooling please email support@scipadonline.co.nz for details.
When do book codes expire?
Book access will remain active for the year of purchase. A student's profile will be retained – there is no need to reload their details at the beginning of each school year. If a student is using the same book for a second year all information is retained.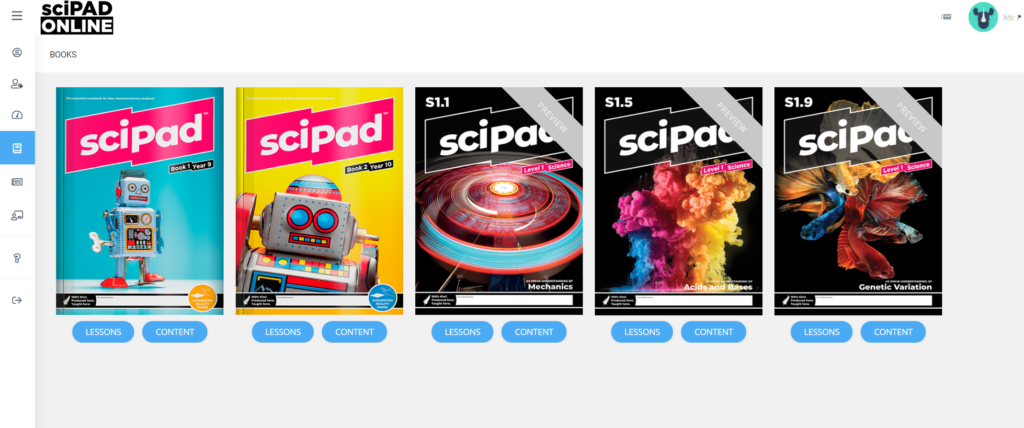 I have found a mistake/ bug/ issue with sciPAD Online.
Is Level 2 and Level 3 content available?
This is currently under development. Due to the new NCEA Standards being introduced all Senior content development above L1 has been moved to the new standards.
Where do I add my students?
Your students will need to register themselves at www.scipadonline.co.nz and they will need to add a class code once logged in (only on initial launch). Please see the video under support.
As a HoD/HoF, can I see all my department's classes?
Yes, they will appear as your teachers create them. You will see students as they are added. You also have the ability to edit students/classes/emails and reset passwords. As HoD you do not generate other teachers classes or enter students.
Why does it say 'no data found' in my teacher dashboard?
Until students log into your class, and attempt an activity or lesson, there will be no data in the teacher dashboard. Once students begin activities and lessons it will become instantly populated with information.